Vic's Shop

Gift Vouchers

We have gift vouchers available for our Tagalong Tours, 4WD Driver Training courses or Recovery Equipment for any amount nominated by you. Not sure which tour or what date? We can supply an open voucher & your recipient can choose whichever is most suitable!
Contact us at info@greatdividetours.com.au or by phone on (02) 99131395 with details of your requirements.


4WD Skills – A Manual for On and Off Road Driving - new Edition just published!
The latest book written by Vic Widman and commissioned by none other than CSIRO Publishing this book will be the bible for anyone wishing to learn how to handle their four wheel drive on and off the road. Vic has leant heavily on his many years of providing Australia's leading 4WD training courses and documented his knowledge in an easy to follow format. Everything from how a four wheel drive works through to the safe and efficient use of vehicle recovery gear is included in this new publication. Available through book stores or purchase direct from Vic Widman for just $40 including postage.
To purchase a copy email info@greatdividetours.com.au
Buy Vic's latest DVD on his amazing Madigan Line Trip
for just $27 including postage
Vic's latest DVD celebrates the 75th anniverary of remarkable journey of Cecil Madigan who crossed the unchartered Simpson Desert in 1939. With a party of nine men and 17 camels Madigan mounted a large scientific expedition to investigate the sand dunes of the desert.
This 120 minute DVD follows Vic and his tour group from Woomera in SA to Mount Dare and eastwards across the little used tracks in the Northern part of the Simpson Desert.
To purchase your own copy just email Vic at info@greatdividetours.com.au

Vic's DVD on his epic First Across the Desert tour
for just $27 including postage
This 100 minute DVD captures all the excitement and challenges of this very rare crossing of the Simpson Desert. See Vic and his clients tackle flooded roads and untouched sand dunes as they endeavour to be the first to cross the Simpson Desert in its anniversary year.
The DVD includes a special interview with Doug and Marg Sprigg who were just 8 and 10 years old when the very first motorised crossing of the Simpson Desert was made by them and their Father, Reg Sprigg in 1962.
To purchase your own copy just email Vic at info@greatdividetours.com.au

Vic Widman's Classic Outback Tracks
Vic's latest book released on his birthday, 19 May is a compilation of 19 of his favourite outback tracks. Each location is described in detail providing a history of the area, what you will find when you visit, where to see all the best scenic locations and where to camp, plus an insight into the driving conditions you are likely to encounter. Some of the areas included in this book include, Outback NSW, Corner Country, Simpson Desert, Hay River Track, Karijini NP, Anne Beadell and Gunbarrel Hwy, the Canning Stock Route and all the famous tracks, Birdsville, Oodnadatta and Strzelecki Tracks to name just a few. This will be the best guide to the outback you could have, cost is just $39 plus postage.
Email Vic @ info@greatdividetours.com.au for more info or call him on 02 9913 1395 to order.

Travelling the Outback


Now you can travel the great Australian outback in complete confidence! Since its first publication in 1999, Travelling the Outback has become a must for any traveller venturing into our vast inland. Written from decades of first-hand experience by leading tour operator and outback guide Vic Widman, the book will take you step-by-step through the planning and preparation involved in making your outback travels not only enjoyable but as hassle-free and safe as possible.
From choosing a destination and route, gathering the necessary information on getting the most out of the trip, to preparing the vehicle and selecting the most appropriate equipment, Travelling the Outback supplies the best advice and information available.
Now thoroughly updated to include all the new 4WD developments, Travelling the Outback also includes comprehensive resource and reference sections.
$30 plus postage.
Email Vic @ info@greatdividetours.com.au for more info or call him on 02 9913 1395 to order.
Burke and Wills Expedition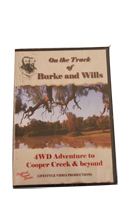 In August 1860 Burke and Wills led their ill fated expedition from Melbourne to Cooper Creek and onto the Gulf of Carpentaria. 150 years later Vic Widman of Great Divide Tours led another group of explorers retracing their famous trek across Australia. This DVD not only captures the modern day adventures as Vic explores the scenic wonders of Swan Hill, Mungo NP, Menindee, Mutawintji NP, Cooper Creek, Birdsville, Big Red, Boulia and the Gulf Country but it is one of the best historic recordings of the Burke and Wills expedition, a must for history buffs or those who wish to fully understand what really occurred on that epic journey by Burke and Wills. All yours for just $27 including postage.

DVD - New Zealand - Down South $27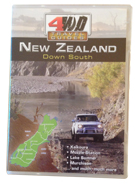 You all know how I rave about how good our New Zealand 4wd trips are, well now you can see for yourself. We had our film crew accompany us in 2013 on our 7 day trip to the South Island of New Zealand and they have compiled this amazing DVD. It showcases some of the spectacular 4wdrivng and scenery that we experienced along with the laughs that typify my trips to this beautiful part of the world. If you are contemplating joining us at some stage or just want to see why I rate the South Island of New Zealand as one of the best places I have visited, then you can get your copy for just $27 including postage.

Trip Itineraries now available

If you are planning a big trip around Australia or up through the centre this might interest you.
I have a clockwise around Australia itinerary and an anticlockwise itinerary, each well over 200 days long. I also have an itinerary for a trip up the Red Centre all the way from Port Augusta to Darwin and of course my itineraries take you to all the must see locations as well as the little known 4wd locations.
Each itinerary details, how far you need to drive each day, which way to go, how long it will take, what there is to see, where to camp, what road conditions might be like, what map covers the area and then each day includes hyperlinks to the various locations I recommend such as National Parks, caravan parks and the local visitor centre. See, I've done all the work for you.
So now all you need to do is drop me an email requesting to purchase one or more of these itineraries and I simply email it to you. You can use it to plan your trip or just follow my recommendations for each day. The hyperlink to a multitude of additional websites expands the information available tenfold. Saves you doing the searching and, as the document is a word document, you can add to it as you wish and simply have it sitting on your ipad as you travel, almost like having Outback Vic sitting in the back seat guiding you, ok so that is not such a great idea!
The cost of these itineraries is $200 each for the trips around the mainland and $150 for the track notes up the middle of the Red Centre. You can order them through by dropping me an email at info@4wd.net.au or give Vic a call on 02 99131395

Vic's Recovery Equipment

Available for pick up from 4WD Driver Training, our Tag Along Tours or Elanora Heights NSW.
3 ¼ tonne rated shackle $6
4 ¾ tonne shackle $10
9 metre Snatch Strap $85
Snatch Kit $150
- Includes Snatch strap, shackles, gloves & bag
Recovery Kit $350
- Includes Snatch strap, tree trunk protector, winch extension strap,
2x3.25 shackles, 2x4.75 shackles, snatch block, recovery dampener & gloves.
Recovery Dampener $40
Bushranger Diggar long handled shovel $90
Recovery Hitch including 4 ¾ ton shackle $60
Winch Strap Extension (10 metre 8000kg) $50
Tree Protector (can also be used as bridle) $45
Snatch Block $80
Tyre Deflator + gauge $30
Plugga III H/D Tyre Repair Kit $40
Max Air III Compressor $340
Black Max Air III Compressor $250
Safety Sand Flag $125
Fire Extinguisher $35
Maxtrax Recovery Tracks $275 a pair
Saber Recovery Equipment
8000kg Ultimate Recovery Kit
1 x 9M 8,200Kg Kinetic Recovery Rope
2 x10,000 Kg Soft Shackles
1 x 20M 9,500Kg Winch Extension Rope
1 x Ezy-Glide 12,000kg Recovery Ring & Bag
1 x 3M 15,000Kg Bridle Rope
1 x 18,000Kg Soft Shackle with Sheath
1 x Winch Damper
1 x Pair Recovery Gloves
1 x Recovery Gear Bag
$950
8000Kg Heavy duty recovery kit
1 x 9M 8,200Kg Kinetic Recovery Rope
2 x10,000 Kg Soft Shackles
$260
4000kg Recovery Kit (for vehicles GVM up to 2 tonne)
1 x 9M 4000Kg Kinetic Recovery rope
2 x x9,000 Kg Soft Shackles
$240
8000kg Kinetic Recovery Rope & bag $180
9000Kg Soft shackle Red & Black $40
Ezy Glide 12.5T WLL Recovery Ring & Bag $125
Hitch Receiver - Rope friendly in blue $195
Hitch Receiver - Rope friendly in blue + 9000Kg soft shackle $230
Many other items supplied, please enquire for availability & prices on 02 9913 1395 or info@greatdividetours.com.au .
Vic says "Since adding the Taipan Exhaust to my 200 series Landcruiser I have enjoyed a good fuel saving and a great increase in power output, for more detail have a look at their website www.taipanxp.com.au "